Eugen Liengme – Organic Painting, Installations, Drawings, Digitals
Contemporary approach in visual arts and environmental care go together in this artist's work. Eugen Liengme exclusively uses organic and biodegradable materials in visualizing processes. All paints, glosses, fixatives and primings are made in the studio using ingredients such as natural oils, resins, lime, kasein and pigments. The challenges of visualizing the human figure in the context of contemporary art has proved a bottomless source of inspiration to Eugen Liengme from the start of his career. Seeing men's fragile position in today's warming world renders an existential emphasis to his work.
Various workfiles illuminate the artist's exploring ever new and experimental fields of visualizing human proportions. "Transfigure-File" exemplarily documents how the artist takes work from rather traditional grounds into excitingly contemporary appearance by combining simple drawing and digital graphic design.
Next:
Studio performance, sandandsound, 16th April 2022
rescheduled for 12th Mai 2022, 8.30 pm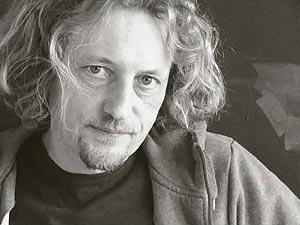 Visiting an exhibiton ...
Visiting an exhibition of Swiss artist Eugen Liengme did not initially call to my call to my mind what is genereally associated with contemporary art. Or did it? Connotations to different periods in art history reflect in some of the ways this artist visualizes his quest into rendering the human form:
nearly classical ones in the drawings
almost expressionist ones in the directness of the brushwork in the paintings
sheer archaic ones in the experimental use of fire and ember on the charred

wood panels

ritualistically staged ones in the installation work
frescoesk in the way paint is made and applied
Leaving from the exhibition I felt strongly connected to a process that links past and present. This artist explores ancient technics and experimentally develops these to achieve acutely present results. some of which are further enhanced by using the graphic potential of digital media. This work illuminates clearly how contemporary art is not an isolated phenomenon cut off from any references to past achievements.
Vera Anosova, art historian, Moscow